Parent Volunteers
What a great help our classroom volunteers have been! Every Tuesday through Thursday a parent has students read to them. This may not seem very much, but it sure helps a lot. Thank you.
Parent Teacher Conferences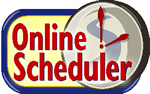 All ready two thirds of the parents in our class has scheduled a time for parent teacher conferences. If you have not done so, please take a quick moment to go to our Online
Scheduler to choose a time to come. Northridge parent teacher conferences will be 5-6 October. We are using a new online scheduling system that you can access by clicking on the Online Scheduler graphic to the right.
Homework
Please remember to initial each day your child reads at home. Every once in a while a homework packet comes back with out initials. Remember, we don't have to read every day; just on the days we eat.